Fall Berries by Demian
Inspirational Quotes
"The most potent weapon of the oppressor is the mind of the oppressed. So as a prelude whites must be made to realise that they are only human, not superior. Same with Blacks. They must be made to realise that they are also human, not inferior."


- Steve Biko (December 18, 1946-September 12, 1977)
South African anti-apartheid activist.



"She remembered who she was and the game changed."


- Lalah Deliah, spiritual writer, wellness educator



"You don't make progress by standing on the sidelines, whimpering, and complaining. You make progress by implementing ideas.


- Shirley Chisholm (November 30, 1924-January 1, 2005),
American politician, educator, author. First black woman
elected to the United States Congress, 1968.



"Don't agonize, Organize.


- Florynce Kennedy (February 11, 1916-December 21, 2000),
American lawyer, feminist, civil rights advocate, lecturer, activist.




---


Langston Hughes


"So since I'm still here livin', I guess I will live on. I could've died for love … But for livin' I was born."


- James Mercer Langston Hughes (February 1, 1902-May 22, 1967)
American poet, social activist, novelist, playwright, columnist.



"Hold fast to dreams, For if dreams die Life is a broken-winged bird, That cannot fly."


- James Mercer Langston Hughes (February 1, 1902-May 22, 1967)
American poet, social activist, novelist, playwright, columnist.



"Folks, I'm telling you, birthing is hard and dying is mean- so get yourself a little loving in between."


- James Mercer Langston Hughes (February 1, 1902-May 22, 1967)
American poet, social activist, novelist, playwright, columnist.



"Oh, God of Dust and Rainbows, Help us to see,
That without the dust, the rainbow would not be."


- James Mercer Langston Hughes (February 1, 1902-May 22, 1967)
American poet, social activist, novelist, playwright, columnist.



"I swear to the Lord, I still can't see, Why Democracy means, Everybody but me."


- James Mercer Langston Hughes (February 1, 1902-May 22, 1967)
American poet, social activist, novelist, playwright, columnist.
---
The Road to Justice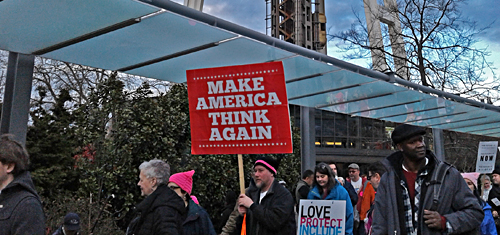 Marching at the Seattle Center, 2017-01-21
---
Services
Weekly services held on Sundays at 10:30 am.
Worship is followed by a shared community meal.
All Are Welcome: Immigrants, Refugees, Muslims, Jews, LGBTQ.
All are Beloved of God.
Peace, Shalom, Salaam.
Sunday, October 13, 10:30 am
Worship and the Celebration with our Beloved Bethany Singers Michele Storms, Mia Mlekarov, Suzanne Simmons, Dan Kramlich along with Rev. Angela Ying and the Rainbow People of God. A shared community meal follows, thanks to our hospitality team with Jack Storms, Mell Fuller, Bernice and Wes Cade, Nick Smith, Carroll Jackson, Leah and Moses Reed, Annaliza Torres, and all who welcome everyone into beloved community.


Sunday, October 20, 10:30 am
Worship and Celebration with our Abacoco Women's Steelpan Group with Lakesha Knatt, Anne Gregory, Heidi Hansen, and Miho Takekawa. The Abacoco Steel Pan Group is devoted to promoting empowerment and liberation of women through artistic study, dialogue, expression, experimentation and identity development.

Other Events of Note
Monday, October 14, 1:30 pm
Be present for justice at the King County Juvenile Courtroom 1211 East Alder Street, Seattle, 98122. Stand in solidarity with our 15-year-old, middle schooler, Jakwaun to make sure the racist prison industrial complex will not touch, hurt, or even attempt to put behind bars, our innocent black youth, brother, and son. Your presence will make all the difference, as the judge pays attention to who shows up.


Tuesday, October 15, 9:30 am
True Hope Village press conference. Our pastor, Angela Ying, along with other faith leaders, will be speaking. Tiny House Villages in our city help keep people warm and in homes. Bethany United Church of Christ will be sponsoring the Tiny House Village in Georgetown, with another church. Bethany has been actively involved, led by Jared, Whitney, Mona, Pastor Angela, and KL, bringing food and supplies to the Othello Tiny House Village. Now, we've been asked to help our Georgetown neighbors.


Thursday, October 17, TBD
Hearing on Tiny House Villages to get a city-wide ordinance in support of more Tiny House Villages in the Seattle area. Location and time to be determined.


Saturday, November 16, 2 pm
Memorial Service for Margaret C. Ying, our pastor's and Bethany's mom is at Bethany.
---



Beloved Community


Pray without ceasing. Bethany Church prays, as we grow beloved community, for all in our community of faith, our neighborhoods, city and country, others countries and all of God's Creation.

We pray for peace amidst war, love amidst hate, compassion amidst despair, courage amidst fear. We pray for all of our sisters and brothers here and around the world, especially all who are sick, lonely, anxious, fearful, struggling, homeless, unemployed and healing and wholeness, grace and strength for the day.

Prayers for the Standing Rock Sioux Tribe protesting the Dakota Access Pipeline that will run through and destroy Native American burial landmarks and sacred spaces of our First Nation People.

Special prayers for our brothers and sisters in Haiti, Cuba, Florida and the Atlantic Coast affected by Hurricane Matthew causing deaths, massive infrastructure damage and numerous people needing to evacuate their homes. Prayers for our sisters and brothers in Syria, especially in war-torn Allepo.




Seattle Rent Control Petition


This petition calls for universal rent control, free of corporate loopholes. The rent control campaign has been endorsed by at least 12 organizations, such as the SEA, the union representing Seattle's public school educators. Bethany, and our campus partners, have endorsed rent control. Everyone has a right to shelter and an affordable home. All are Beloved.



---
Immigration Efforts


Our beloved Bethany Church community shines by standing in solidarity with our migrants, who have the human, and legal right, to seek refuge in America.

South and Central Migrants Rapid Response Network
Faith and community leaders from around the city gather monthly at Bethany United Church of Christ to teach "Know Your Rights," and to support immigrants, refugees, and migrants by standing up to every day injustices. -


Standing Alongside Our Muslim Sisters and Brothers
Bethany Partners with Muslim Association of Puget Sound
#Repeal the Ban. No Ban Act!


Creating Cards
To send cards to our thousands of asylum-seeking neighbors who have recently fled extreme violence in Central America, to build new lives in the United States. - Contact: Jared Howe


Collecting Blankets, Gloves, Hats
Please help fill our boxes with new and lightly-used warm clothing, for our homeless sisters and brothers. - Contact: Jermecia Jackson


Help 80 Seattle Families
Our Christmas Gifts program, in partnership with our sister church, University Congregational UCC. - Donations Contact: Pastor Angela Ying


Renewing Pledges and Financial Support
Help promote justice, loving kindness, and to walking humbly with God, here in our church, communities, and around the world! - Contact: Bernice Cade


Post-Worship Services Community Meals
Join us preparing our weekly meal. - Contact: Tate and Theresa Anderson
To reach all, call 206-725-7535, or write to office@bethanyseattle.org


---
Further Immigration Resources
Northwest Immigrants Rights Project (NWIRP)


---
Weekly Events
Sunday - 10:30 am
Worship and Music followed by a Shared Meal in the church sanctuary and hospitality room. Be renewed, refueled, reinvigorated for the week, by the grace of God in growing Beloved Community. All are welcome.
Monday-Friday
Refugee Women's Alliance (ReWA)
ReWA Preschool Headstart Program
For toddlers to pre-K, Half Day and Full Day
Sliding scale, based on income.
Black Power Epicenter Cooperative
Rainier Valley Cooperative Preschool
Got Green
New Campus Partner working with Bethany
on Climate Justice.
Monday
Black Power Epicenter Cooperative (BPEC)
Led by Senait Brown and Gary Kinte Perry, as well as
many young community leaders, together with their
mentors from People's Institute, Freedom School,
and Bethany United Church of Christ.

Tuesday
AA Community Meetings - 7:30 pm
Thursday
Leadership Training for Youth and Young People
Youth Undoing Institutionalized Racism (YUIR)
Ending the Prison Industrial Complex (EPIC)
Meets in the church annex.
YUIR and EPIC are led by Senait Brown,
community leaders and mentors..
Friday
In 2018, Bethany United Church of Christ continues to work
in community partnership with our Muslim brothers and sisters
of Muslim Association of Puget Sound (MAPS), alongside our
Buddhists brothers and sisters and all people of faith, and no faith.
Friday and Saturday
Falun Gong, Buddhist and Taoist teaching and meditation.
Samoan Choir practice
Saturday
Church and Community Meetings, Gatherings, Discussions and Public Forums
---
---



About Bethany (in Brief)


Bethany United Church of Christ's vision in seeking to be God's Beloved Community on earth, come from the prophetic words of Micah:
What does God require of You? To do justice, love kindness and walk humbly with your God.
Refugees and immigrants welcome here. No ban. No wall. Stop the deportations.

You are Beloved! I am Beloved! We Are Beloved! All Are Beloved of God!

Each and every one is needed in growing Beloved Community. Please support our social justice and ministry at Beloved Bethany with a donation of any amount to: Bethany United Church of Christ. You and your generosity and kindness are making a difference in our community and around the world. Thank you for giving generously.

NOTE: Throughout the year, Bethany Church will be leading in "Share the Gift of Love," providing for our neighborhood children. Please bring new, or lightly used, men and women's gloves and scarves. Please let pastor Angela Ying know if you are willing to participate and help.

Thank you.