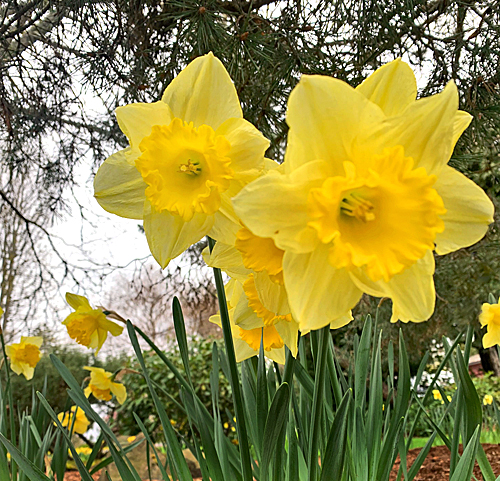 Jonquils in Park
Image by AY
---
Inspirational Quotes
War

"War… Huh… Yeah! What is it good for?
Absolutely nothing!
War … Huh … Yeah! What it is good for?
Absolutely nothing! Say it again y'all.
War … Huh … Look out! What is it good for?
Absolutely nothing! Listen to me now.

"War is something that I despise,
'Cause it means the destruction of innocent lives.
War means tears in thousands of mothers' eyes,
When their sons go out to fight and lose their lives.

"I said War … Huh … Good God y'all! What it is good for?
Absolutely nothing! Say it again.
War … Huh! Lord, Lord, Lord.
What is it good for? Absolutely nothing! Listen to me.

"War! It ain't nothing but a heart breaker.
War! Friend only to the undertaker.
War is the enemy of all mankind.br> The thought of war blows my mind.
War has caused unrest within the younger generations,
Induction then destruction … who wants to die?

"AAH! War … Huh … Good God y'all!
What is it good for? Absolutely nothing!"

- Song written by Norman Whitfield. Recorded
by Whitfield and The Temptations.



All Things Bright and Beautiful

"All things bright and beautiful, all creatures great and small. All things wise and wonderful, our dear God made them all."

- Cecil Frances Alexander, from her Anglican hymn.
It's frequently sung to the "Royal Oak," a melody adapted from a 17th-
century folk tune, "The Twenty-Ninth of May," published in 1686.
It's also often sung to the tune "All Things Bright and
Beautiful," composed by William Henry Monk in 1887.



Trees

"I think that I shall never see
A poem as lovely as a tree.

A tree whose hungry mouth is prest
Against the earth's sweet flowing breast;

A tree that looks at God all day,
And lifts her leafy arms to pray;

A tree that may in Summer wear
A nest of robins in her hair;

Upon whose bosom snow has lain;
Who intimately lives with rain.

Poems are made by fools like me,
But only God can make a tree."

- Joyce Kilmer




"It feels so good to be alive
Got all my family by my side
Couldn't wipe this black off if I tried
That's why I lift my head with pride

"I got a million miles on me
They want to see how far I'll go
The path was never paved with gold (gold)
We worked and built this on our own (own)
And, and can't nobody knock it if they tried (no)
This is hustle personified
Look how we've been fighting to stay alive
So when we win we will have pride
Do you know how much we have cried?
How hard we had to fight?

"It feels so, so, so, so good
I got all my sisters by my side …"

- Beyoncé, her song "Be Alive," from her album by the same name.
Songwriters: Beyoncé Giselle Knowles / Darius Scott Dixson.



---
---
Notices
Invitations and upcoming events the Bethany United
Church of Christ community is invited to participate:
Wednesday, April 27, 5 pm. Easter Season Sharing, Prayers, Reflection with Jennifer Astion, Jessica Avanidhar, Kevin Burdet, Deborah Dean, Mell Fuller, Nick Smith, Suzanne Simmons, Annaliza Torres, Angela Ying and YOU! Contact the Bethany office for specific Zoom details; 206-725-7535, office@bethanyseattle.org.
Sunday, May 15, 3 pm. Climate Benefit Concert at First Baptist Church in partnership with Green Buildings Now and Bethany United Church of Christ in support creating our Beacon Hill Resilience Hub and our climate justice ministries on our church campus. If you need any assistance, contact us at office@bethanyseattle.org. The Nelda Swiggett Quintet will perform "The Alaska Suite." Composed by jazz pianist Nelda Swiggett, The Suite is a story of beauty, loss and hope, depicting how the climate crisis is unfolding in Alaska. The 90-minute performance features jazz, images, poetry, spoken word and audience participation.
Monday, May 23, 6 - 8:30 pm. At Bethany United Church of Christ campus, as we welcome brother, Magdaleno "Leno" Rose-Avila home to Seattle to share stories about his current experiences working with our sisters and brothers on the Mexican border, Climate Change legislation, and Organizing the Youth vote.

---
Services
Weekly services held on Sundays at 10:30 am.
Worship is followed by a shared community meal.
All Are Welcome: Immigrants, Refugees, Muslims, Jews, LGBTQ.
All are Beloved of God.
Peace, Shalom, Salaam.
---



Note from Rev. Angela Ying


On Sundays, our community will be together — via the computer program, Zoom — to worship God as a beloved Bethany United Church of Christ community, safely from your home. Thank you for staying home, and not coming to our church sanctuary. For Zoom instructions, please email office@bethanyseattle.org during the week.

Before we worship, here is what you can still do:
Email your joys and concerns as prayer.
Pray for yourself, your loved ones, and the world.
Continue to be wise in keeping a safe distance, eating, sleeping, and staying well
Call or email the church office if you need pastoral care, or assistance.
Mail your contribution to Bethany to build community.
Know you are Beloved.
Give thanks you are alive through God's gifts of music, meditation, dance, joy, reading, exercise, deep breathing, gratitude.
Use your imagination and creativity.

Thank you Bethany United Church of Christ. Together, we will persevere in being the healthy, vibrant, strong, and loving congregation God calls us to be.

Grace and peace be with you, as we work together for good, knowing God's steadfast love endures forever.

Pastor Angela Ying


Sundays, 10:30 am
Worship and Communion.
---



Beloved Community


Pray without ceasing. Bethany Church prays, as we grow beloved community, for all in our community of faith, our neighborhoods, city and country, others countries and all of God's Creation.

We pray for peace amidst war, love amidst hate, compassion amidst despair, courage amidst fear. We pray for all of our sisters and brothers here and around the world, especially all who are sick, lonely, anxious, fearful, struggling, homeless, unemployed and healing and wholeness, grace and strength for the day.

Prayers for the Standing Rock Sioux Tribe protesting the Dakota Access Pipeline that will run through and destroy Native American burial landmarks and sacred spaces of our First Nation People.

Special prayers for our brothers and sisters in Haiti, Cuba, Florida and the Atlantic Coast affected by Hurricane Matthew causing deaths, massive infrastructure damage and numerous people needing to evacuate their homes. Prayers for our sisters and brothers in Syria, especially in war-torn Allepo.



Give Now


To donate, please click here:


Accepting Credit Cards, and PayPal



---



Immigration Efforts


Our beloved Bethany Church community shines by standing in solidarity with our migrants, who have the human, and legal right, to seek refuge in America.

South and Central Migrants Rapid Response Network
Faith and community leaders from around the city gather monthly at Bethany United Church of Christ to teach "Know Your Rights," and to support immigrants, refugees, and migrants by standing up to every day injustices.


Standing Alongside Our Muslim Sisters and Brothers
Bethany Partners with Muslim Association of Puget Sound
#Repeal the Ban. No Ban Act!


Creating Cards
To send cards to our thousands of asylum-seeking neighbors who have recently fled extreme violence in Central America, to build new lives in the United States. - Contact: Jared Howe


Collecting Blankets, Gloves, Hats
Please help fill our boxes with new and lightly-used warm clothing, for our homeless sisters and brothers. - Contact: Jermecia Jackson


Help 80 Seattle Families
Our Christmas Gifts program, in partnership with our sister church, University Congregational UCC. - Donations Contact: Pastor Angela Ying


Renewing Pledges and Financial Support
Help promote justice, loving kindness, and to walking humbly with God, here in our church, communities, and around the world! - Contact: Bernice Cade


Post-Worship Services Community Meals (Postponed until safe to meet again.)
Join us preparing our weekly meal. - Contact: Tate and Theresa Anderson
To reach all, call 206-725-7535, or write to office@bethanyseattle.org

Further Immigration Resources

Northwest Immigrants Rights Project (NWIRP)

---
Weekly Events
Sunday - 10:30 am
Worship and Music followed by a shared meal in the church sanctuary and hospitality room. Be renewed, refueled, reinvigorated for the week, by the grace of God in growing Beloved Community. All are welcome. - We meet via the computer program, Zoom. For Zoom instructions, please email office@bethanyseattle.org during the week. No meal shared, at this time.
Monday-Friday
Refugee Women's Alliance (ReWA)
ReWA Preschool Headstart Program
For toddlers to pre-K, Half Day and Full Day
Sliding scale, based on income.
Black Power Epicenter Cooperative
Rainier Valley Cooperative Preschool
Got Green
New Campus Partner working with Bethany
on Climate Justice.
Monday
Black Power Epicenter Cooperative (BPEC)
Led by Senait Brown and Gary Kinte Perry, as well as
many young community leaders, together with their
mentors from People's Institute, Freedom School,
and Bethany United Church of Christ.

Thursday
Leadership Training for Youth and Young People
Youth Undoing Institutionalized Racism (YUIR)
Ending the Prison Industrial Complex (EPIC)
Meets in the church annex.
YUIR and EPIC are led by Senait Brown,
community leaders and mentors..
Friday
Bethany United Church of Christ continues to work in community
partnership with our Muslim brothers and sisters of Muslim
Association of Puget Sound (MAPS), alongside our Buddhists
brothers and sisters, and all people of faith, as well as no faith.
Friday and Saturday
Falun Gong, Buddhist and Taoist teaching and meditation.
Samoan Choir practice
Saturday
Church and Community Meetings, Gatherings, Discussions and Public Forums
---
Sign of the Times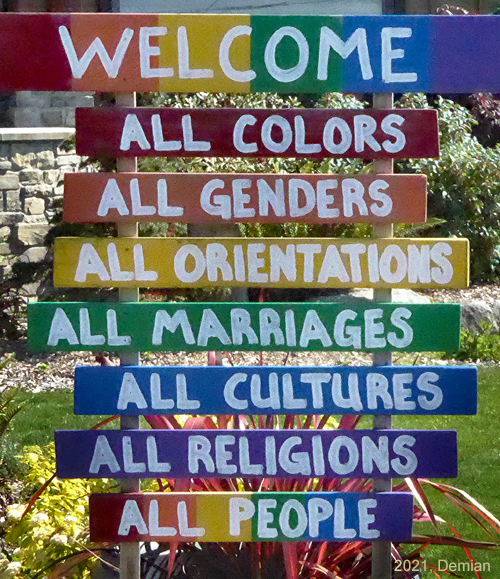 Welcome
by Demian
---



About Bethany (in Brief)


Bethany United Church of Christ's vision in seeking to be God's Beloved Community on earth, come from the prophetic words of Micah:
What does God require of You? To do justice, love kindness and walk humbly with your God.
Refugees and immigrants welcome here. No ban. No wall. Stop the deportations.

You are Beloved! I am Beloved! We Are Beloved! All Are Beloved of God!

Each and every one is needed in growing Beloved Community. Please support our social justice and ministry at Beloved Bethany with a donation of any amount to: Bethany United Church of Christ. You and your generosity and kindness are making a difference in our community and around the world. Thank you for giving generously.

NOTE: Throughout the year, Bethany Church will be leading in "Share the Gift of Love," providing for our neighborhood children. Please bring new, or lightly used, men and women's gloves and scarves. Please let pastor Angela Ying know if you are willing to participate and help.

Thank you.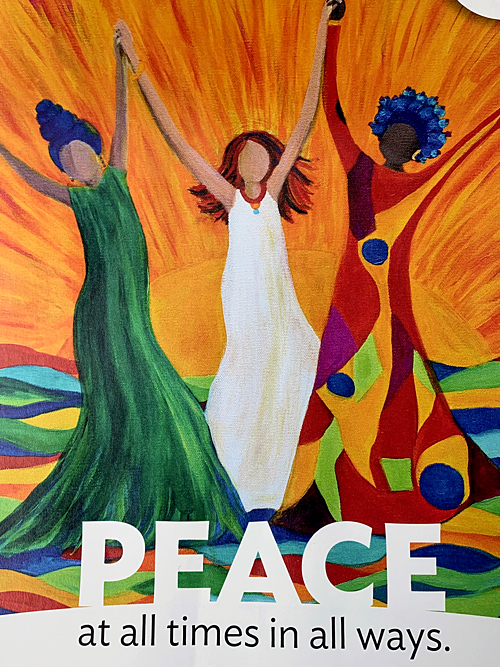 Painting by Kelly Simpson Hagen