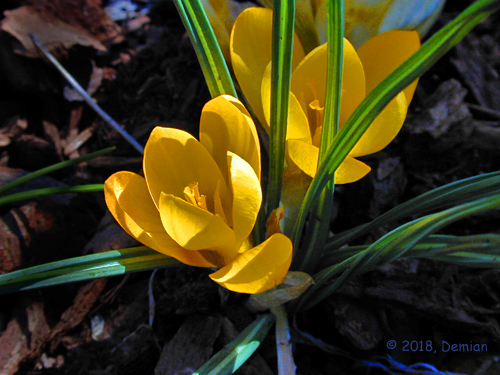 Crocus by Demian
Inspirational Quotes
"May the road rise to meet you, and the wind always be at your back.
May the sun shine warm on your face, and the rains fall softly on your fields.
And until we meet again, may God hold you gently in the palm of God's hand."

- An Irish Blessing
---

International Women's Day is celebrated on March 8 every year. It is a focal point in the movement for women's rights. After the Socialist Party of America organized a Women's Day on February 28, 1909, in New York, the 1910 International Socialist Woman's Conference suggested a Women's Day be held annually.
"If I didn't define myself for myself, I would be crunched into other people's fantasies for me, and eaten alive."

- Audre Lorde



"The future of our world is as bright as the future of our girls"

- Michelle Obama



"My world did not shrink because I was a black female writer. It just got bigger."

- Toni Morrison



"Women are like tea bags, we don't know our strength until we are in hot water."

- Eleanor Roosevelt



"No person is your friend who demands your silence or denies your right to grow."

- Alice Walker



"I have the right of education. I have the right to play. I have the right to sing. I have the right to talk. I have the right to go to market. I have the right to speak up. If I did not, who would?"

- Malala Yousafzai



"I've been accused of being attacking, intimidating, disrespectful, all these things - and at one point I said, " 'I'm not being those things so I'm not going to change.' "

- Serena Williams



"There will be enough women on the Supreme Court when there are nine."

- Ruth Bader Ginsburg



"There will not be a magic day when we wake up and it's now okay to express yourself publicly. We make that day by doing things publicly until it's simply the way things are."

- Tammy Baldwin
---
---
Services
Weekly services held on Sundays at 10:30 am.
Worship is followed by a shared community meal.
All Are Welcome: Immigrants, Refugees, Muslims, Jews, LGBTQ.
All are Beloved of God.
Peace, Shalom, Salaam.
Sunday, March 17, 10:30 am
Worship and Celebration with musician Dan Kramlich, Lynn Heinisch, Mell Fuller, The Reverend Angela Ying and the Rainbow People of God at Bethany United Church of Christ followed by a shared community meal thanks to our amazing hospitality team led by Tate, Theresa, and Bryan Anderson, Sara and Steve Storck, Bernice and Wes Cade, Mell Fuller, Nick Smith, Leah and Moses Reed and all who invite everyone into Beloved Community, followed by a shared community meal.
Other Events of Note
March
Bethany United Church of Christ hosts March's Rapid Response Network/South and Central Migrant Network. Lynn Heinisch is Bethany's liaison.


Saturday, March 16, 9 am-5 pm
Seattle Public Library Book Sale at Seattle Center Exhibition Hall (Lower Level) at 301 Mercer St, Seattle. Free admission. This library book sale supports our Seattle Public Library. There are a lot of books you want to read.


Saturday, March 16, 1 pm
New Hope Baptist Church The Human Services, Equitable Development and Renter Rights Committee and wider community continue our fight against economic evictions of working families from our city while developers and big businesses make enormous profits. New Hope Missionary Baptist Church, 124 21st Ave., Seattle. The Chateau Apartments on 19th and Fir Street in the CD have been home to working-class seniors, immigrants, and families. Now they risk being evicted and displaced by Cadence Real Estate planning to demolish the Chateau Apartments.


Ongoing Events
---
Beloved Community


Pray without ceasing. Bethany Church prays, as we grow beloved community, for all in our community of faith, our neighborhoods, city and country, others countries and all of God's Creation.

We pray for peace amidst war, love amidst hate, compassion amidst despair, courage amidst fear. We pray for all of our sisters and brothers here and around the world, especially all who are sick, lonely, anxious, fearful, struggling, homeless, unemployed and healing and wholeness, grace and strength for the day.

Prayers for the Standing Rock Sioux Tribe protesting the Dakota Access Pipeline that will run through and destroy Native American burial landmarks and sacred spaces of our First Nation People.

Special prayers for our brothers and sisters in Haiti, Cuba, Florida and the Atlantic Coast affected by Hurricane Matthew causing deaths, massive infrastructure damage and numerous people needing to evacuate their homes. Prayers for our sisters and brothers in Syria, especially in war-torn Allepo.





Immigration Efforts


Our beloved Bethany Church community shines by standing in solidarity with our migrants, who have the human, and legal right, to seek refuge in America.

Creating Cards
To send cards to our thousands of asylum-seeking neighbors who have recently fled extreme violence in Central America, to build new lives in the United States.
Contact: Jared Howe

Collecting Blankets, Gloves, Hats
Please help fill our boxes with new and lightly-used warm clothing, for our homeless sisters and brothers.
Contact: Jermecia Jackson

Help 80 Seattle Families
Our Christmas Gifts program, in partnership with our sister church, University Congregational UCC.
Donations Contact: Pastor Angela Ying

Renewing Pledges and Financial Support
Help promote justice, loving kindness, and to walking humbly with God, here in our church, communities, and around the world!
Contact: Bernice Cade

Post-Worship Services Community Meals
Join us preparing our weekly meal.
Contact: Tate and Theresa Anderson
To reach all, call 206-725-7535, or write to office@bethanyseattle.org


---
Weekly Events
Sunday - 10:30 am
Worship and Music followed by a Shared Meal in the church sanctuary and hospitality room. Be renewed, refueled, reinvigorated for the week, by the grace of God in growing Beloved Community. All are welcome.
Monday-Friday
Refugee Women's Alliance (ReWA)
ReWA Preschool Headstart Program
For toddlers to pre-K, Half Day and Full Day
Sliding scale, based on income.
Black Power Epicenter Cooperative
Rainier Valley Cooperative Preschool
Got Green
New Campus Partner working with Bethany
on Climate Justice.
Monday
Black Power Epicenter Cooperative (BPEC)
Led by Senait Brown and Gary Kinte Perry, as well as
many young community leaders, together with their
mentors from People's Institute, Freedom School,
and Bethany United Church of Christ.

Tuesday
AA Community Meetings - 7:30 pm
Thursday
Leadership Training for Youth and Young People
Youth Undoing Institutionalized Racism (YUIR)
Ending the Prison Industrial Complex (EPIC)
Meets in the church annex.
YUIR and EPIC are led by Senait Brown,
community leaders and mentors..
Friday
In 2018, Bethany United Church of Christ continues to work
in community partnership with our Muslim brothers and sisters
of Muslim Association of Puget Sound (MAPS), alongside our
Buddhists brothers and sisters and all people of faith, and no faith.
Friday and Saturday
Falun Gong, Buddhist and Taoist teaching and meditation.
Samoan Choir practice
Saturday
Church and Community Meetings, Gatherings, Discussions and Public Forums
---
About (in Brief)


Bethany United Church of Christ's vision in seeking to be God's Beloved Community on earth, come from the prophetic words of Micah:
What does God require of You? To do justice, love kindness and walk humbly with your God.
Refugees and immigrants welcome here.
No ban. No wall. Stop the deportations.

You are Beloved! I am Beloved! We Are Beloved! All Are Beloved of God!

Each and every one is needed in growing Beloved Community. Please support our social justice and ministry at Beloved Bethany with a donation of any amount to: Bethany United Church of Christ. You and your generosity and kindness are making a difference in our community and around the world. Thank you for giving generously.






NOTE:


Throughout the year, Bethany Church will be leading in "Share the Gift of Love," providing for our neighborhood children. Please bring new, or lightly used, men and women's gloves and scarves. Please let pastor Angela Ying know if you are willing to participate and help.

Thank you.