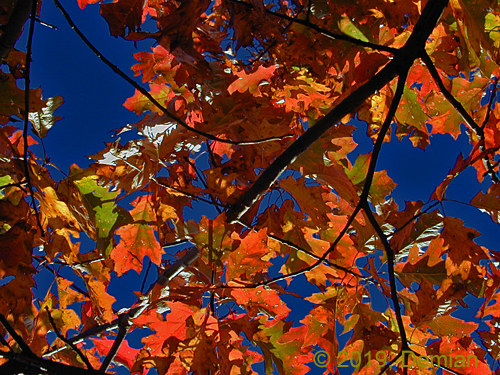 Oak Red 1 by Demian
Inspirational Quotes
---


Inspirational quotes of Gratitude


"'Thank you' is the best prayer that anyone could say. I say that one a lot. Thank you expresses extreme gratitude, humility, understanding."


- Alice Walker, American author,
poet, social activist.



"Let gratitude be the pillow upon which you kneel to say your nightly prayer. And let faith be the bridge you build to overcome evil and welcome good."


- Maya Angelou (April 4, 1928-May 28, 2014),
American poet, singer, memoirist,
civil rights activist.



"Gratitude is a quality similar to electricity; it must be produced and discharged and used up in order to exist at all."


- William Faulkner (September 25, 1897-July 6, 1962),
American writer, Nobel Prize laureate.



"Kindness is the language which the deaf can hear and the blind can see."


- Mark Twain (b. Samuel Langhorne Clemens,
November 30, 1835-April 21, 1910)
American writer, humorist,
publisher, lecturer.



---
---
Services
Weekly services held on Sundays at 10:30 am.
Worship is followed by a shared community meal.
All Are Welcome: Immigrants, Refugees, Muslims, Jews, LGBTQ.
All are Beloved of God.
Peace, Shalom, Salaam.
Sunday, December 1, 10:30 am
Worship and Holy Communion. First Sunday of Advent with Dan Kramlich, Michele Storms, Rev. Angela Ying and the Beloved Community. A community-shared meal provided by Kamal Elshirbieny and Jenny Rullan, and our hospitality team led by Mell Fuller, Bernice and Wes Cade, Nick Smith, Leah and Moses Reed, Carroll Jackson, Annaliza Torres, Suzanne Simmons, Jack Storms, Lynn Heinisch, Jared, Whitney, and Mona Howe, and all who welcome everyone into beloved community.
Other Events of Note
Thursday, November 28, 2 pm
Thanksgiving Dinner at the Jackson's Drop in , or stay longer, for a special Thanksgiving dinner hosted by Carroll Jackson, Erin Kelly, and family. All are welcome. Bring your family and friends Renton Ave. South, Seattle. For directions and details, call 206-723-3021.
---
---



Beloved Community


Pray without ceasing. Bethany Church prays, as we grow beloved community, for all in our community of faith, our neighborhoods, city and country, others countries and all of God's Creation.

We pray for peace amidst war, love amidst hate, compassion amidst despair, courage amidst fear. We pray for all of our sisters and brothers here and around the world, especially all who are sick, lonely, anxious, fearful, struggling, homeless, unemployed and healing and wholeness, grace and strength for the day.

Prayers for the Standing Rock Sioux Tribe protesting the Dakota Access Pipeline that will run through and destroy Native American burial landmarks and sacred spaces of our First Nation People.

Special prayers for our brothers and sisters in Haiti, Cuba, Florida and the Atlantic Coast affected by Hurricane Matthew causing deaths, massive infrastructure damage and numerous people needing to evacuate their homes. Prayers for our sisters and brothers in Syria, especially in war-torn Allepo.




Seattle Rent Control Petition


This petition calls for universal rent control, free of corporate loopholes. The rent control campaign has been endorsed by at least 12 organizations, such as the SEA, the union representing Seattle's public school educators. Bethany, and our campus partners, have endorsed rent control. Everyone has a right to shelter and an affordable home. All are Beloved.



Related article by Rev. Ying:
"Sweeps are for litter, not for living and loving human beings"


---
Immigration Efforts


Our beloved Bethany Church community shines by standing in solidarity with our migrants, who have the human, and legal right, to seek refuge in America.

South and Central Migrants Rapid Response Network
Faith and community leaders from around the city gather monthly at Bethany United Church of Christ to teach "Know Your Rights," and to support immigrants, refugees, and migrants by standing up to every day injustices. -


Standing Alongside Our Muslim Sisters and Brothers
Bethany Partners with Muslim Association of Puget Sound
#Repeal the Ban. No Ban Act!


Creating Cards
To send cards to our thousands of asylum-seeking neighbors who have recently fled extreme violence in Central America, to build new lives in the United States. - Contact: Jared Howe


Collecting Blankets, Gloves, Hats
Please help fill our boxes with new and lightly-used warm clothing, for our homeless sisters and brothers. - Contact: Jermecia Jackson


Help 80 Seattle Families
Our Christmas Gifts program, in partnership with our sister church, University Congregational UCC. - Donations Contact: Pastor Angela Ying


Renewing Pledges and Financial Support
Help promote justice, loving kindness, and to walking humbly with God, here in our church, communities, and around the world! - Contact: Bernice Cade


Post-Worship Services Community Meals
Join us preparing our weekly meal. - Contact: Tate and Theresa Anderson
To reach all, call 206-725-7535, or write to office@bethanyseattle.org


---
Further Immigration Resources
Northwest Immigrants Rights Project (NWIRP)


---
Weekly Events
Sunday - 10:30 am
Worship and Music followed by a Shared Meal in the church sanctuary and hospitality room. Be renewed, refueled, reinvigorated for the week, by the grace of God in growing Beloved Community. All are welcome.
Monday-Friday
Refugee Women's Alliance (ReWA)
ReWA Preschool Headstart Program
For toddlers to pre-K, Half Day and Full Day
Sliding scale, based on income.
Black Power Epicenter Cooperative
Rainier Valley Cooperative Preschool
Got Green
New Campus Partner working with Bethany
on Climate Justice.
Monday
Black Power Epicenter Cooperative (BPEC)
Led by Senait Brown and Gary Kinte Perry, as well as
many young community leaders, together with their
mentors from People's Institute, Freedom School,
and Bethany United Church of Christ.

Thursday
Leadership Training for Youth and Young People
Youth Undoing Institutionalized Racism (YUIR)
Ending the Prison Industrial Complex (EPIC)
Meets in the church annex.
YUIR and EPIC are led by Senait Brown,
community leaders and mentors..
Friday
In 2018, Bethany United Church of Christ continues to work
in community partnership with our Muslim brothers and sisters
of Muslim Association of Puget Sound (MAPS), alongside our
Buddhists brothers and sisters and all people of faith, and no faith.
Friday and Saturday
Falun Gong, Buddhist and Taoist teaching and meditation.
Samoan Choir practice
Saturday
Church and Community Meetings, Gatherings, Discussions and Public Forums
---



About Bethany (in Brief)


Bethany United Church of Christ's vision in seeking to be God's Beloved Community on earth, come from the prophetic words of Micah:
What does God require of You? To do justice, love kindness and walk humbly with your God.
Refugees and immigrants welcome here. No ban. No wall. Stop the deportations.

You are Beloved! I am Beloved! We Are Beloved! All Are Beloved of God!

Each and every one is needed in growing Beloved Community. Please support our social justice and ministry at Beloved Bethany with a donation of any amount to: Bethany United Church of Christ. You and your generosity and kindness are making a difference in our community and around the world. Thank you for giving generously.

NOTE: Throughout the year, Bethany Church will be leading in "Share the Gift of Love," providing for our neighborhood children. Please bring new, or lightly used, men and women's gloves and scarves. Please let pastor Angela Ying know if you are willing to participate and help.

Thank you.